Artificial Intelligence Drives Engagement and Benefits

Traditionally, employers have struggled in engaging employees in the benefits of their health accounts. The Bend Advisor removes that burden from the employer, simplifying engagement and helping employees make smarter spending and saving decisions. By reducing the population of non-funders and increasing employee contributions, employers reap financial benefits through lower payroll taxes and greater FICA tax savings.
AI tools like the Bend Advisor prioritize employees' needs at every step of the way, increasing financial health literacy and supporting cost-conscious behaviors while increasing HSA account balances (either cash or investments) and contributions that benefit everyone
Program Benefits at your fingertips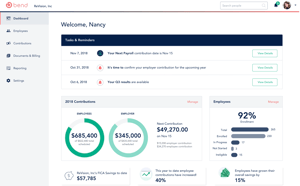 On top of having an easy to use HSA for your employees, our Dashboard gives you a quick view into your program, so you can easily and quickly see your upcoming tasks, your employer contributions to date and planned, your employees contributions to date and planned, your tax savings to date, how much your employees contributions have grown, their savings growth, among other important things.


Request Sales Contact or Demo

If you would like someone from our sales team to follow up with you and tell you more about our innovative HSA program, or even to give you a demo, please fill out the form below and we will be in touch soon.